Search Engine Optimisation (SEO)
Search engine optimisation is the process of improving the visibility of a website on organic (un-paid) search engine result pages (SERPs), by incorporating search engine friendly elements into your website and intergrating the necessary channels to give your the best visibility possible.
Our search engine optimisation experts can help your website rank for the terms that your potential customers are searching for and increase visitors.
SEO Analysis
Based on keywords chosen, we generate a report which will show you how you are ranking compared to your competitors. As a part of our SEO package, we use proven technical and organic practices to ensure your website ranks higher on Google.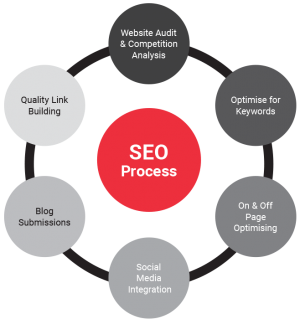 Search Engine Marketing (SEM) – Google Adwords
Create a tactical digital marketing campaign to build credentials, educate and drive leads. Seek to drive website traffic to your owned channels and target potential customers.
If you want to continue to be a successful brand or business, you need to keep up with the everchanging digital online landscape. What worked for your content marketing strategy last year may not work this year.
Our Google-certified experts can provide a fully managed service, from account activation to ongoing campaign maintenance, ensuring your message reaches a larger range of potential customers and maximises your ROI.
We work with you and your team to:
Choose your campaign targets, goals and set KPIs.

Decide on your budget and campaign spend.

Choose keywords for specific campaigns.

Report outcomes and de brief with your team.

Continually optimise your campaign to improve results.
Google Display Network (GDN)
The Google Display Network helps you capture prospect's attention earlier in the buying cycle, allowing you to place graphic ads on a variety of news sites, blogs and other similar niche sites across the internet to reach more potential customers.
The websites are chosen based on the keywords that we implement or we can choose a list of websites from the topics selection in Google.
We work with you and your team to:
Prospect lands on your site

Prospect leaves your site

Prospect sees your ad on other sites
Work with us –
Say Hello !
Our team is available from 9:00 am to 5:30 pm AEST Monday to Friday.
If you have any questions regarding our services or website, please contact us by filling out the following form, e-mailing or calling us and we'll get back to you as soon as possible.